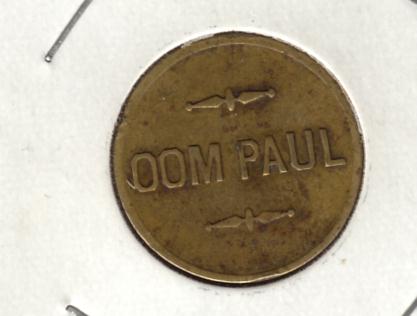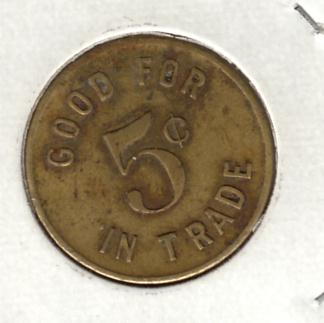 The maverick online token identifier used to have a listing of one other token and  seemed to think it might be a token related to an American named Oom Paul. Now it lists it as being attributed to Wayne, Nebraska and says "also attributed to Saint John's, Quebec, Canada" and "this token is from St. John's, Quebec (now known as "Saint-Jean-sur-Richelieu)".
The one web reference I did come across to Oom Paul and cigars and 5 cents is to an Oom Paul in Grand Rapids, Michigan. Oom Paul, I have no doubt, refers to Oom Paul Kruger of the Transvaal and the Boer War of 1898. Numismatically he figures due to the coinage of that state and for the fact that coins of the state were often inscribed with him smoking a pipe (possibly done by some British soldier). The kind of pipe seems, incidentally, to have become known as an Oom Paul as well. This being a 5 cent token it cannot be anything but Canadian or American. The British Empire and Commonwealth was on the pound sterling system (except India (rupees), Ceylon, Hong Kong and Malaya (cents and dollars).
It seems there were Oom Paul cigars in Grand Rapids, Michigan, and that the United States was a place of a fair bit of pro Kruger activity with an organization called the American Transvaal League – the chairman being a Myron H. Walker of Grand Rapids. Their support came from various Dutch, German and Irish Americans, and ballads there being written like;
"Don't stop to confab, Oom Paul, Oom Paul;
It's another case of grab, that's all, that's all;
Just remember that you're white,
Recollect that might is right,
Then we'll wade in and fight, Oom Paul, Oom Paul.
The British Lion is hard to lick, Oom Paul, Oom Paul;
Don't forget we did the trick, Oom Paul, Oom Paul;
As to size we were not much,
Just some colonists and such,
Don't forget the down-east Dutch, Oom Paul, Oom Paul;"
French Canadians also opposed the Boer War and sympathized with "a small population being beset upon by a gigantic bully". Pictures of Oom Paul hung in some Quebec tobacco shops to show their support
New York Times 1900:    "A curious commentary on these songs furnished by a lot of newly copyrighted songs on the Boer War all written in America. Without exception these American songs are pro-Boer. Many of them are vindictive and almost indecent in their sentiments. One, published in St. Louis, is entitled "When Kruger Spanked the Queen," and its title page has a cartoon representing the Queen weeping, while Kruger is just putting on his slipper., with which he has been spanking her. Grand Rapids, Mich., contributes several such songs…     Chicago, St. Louis, and Baltimore contribute other pro-Boer songs."
The article does not state whether the pro-Boer sentiment is the result of a percentage of the possible aforementioned Irish, Dutch or German immigrants living there.
Sometimes one senses that a token design could possibly have serviced in one or two different places, particularly when the name on the token is a well known one or one that is quite commonly used, like such as "Imperial Hotel" and when the two, or more, institutions were quite far apart.   The things one comes across, like this just now, looking these items up!!
My guess is that Gene Simms would like to see any Paul Kruger coin that has a pipe carved into it.
Local note. I think  I found this token at a North Shore annual coin show. I know for a fact that I left it behind at Gordon Dickie's table on the first day of the show and he charged me 5.00 for leaving it behind on the next day. I did not mind. Quite a good lesson and I was glad to get it back.
~Duff Malkin