RCNA auction to feature 'King' of Canadian coins says the front page of Canadian Coin News this week.
The "King" of Canadian coins – a 1921 50 cent piece, graded ICCS MS65 – will take pride of place at the Royal Canadian Numismatic Association's 2017 auction, to be held July 20-22 2017 in Boucherville, Quebec.
In February 2015 CCN reported that 1921 50 Cents coin had sold at auction for $220,000
What will it fetch this time do you think ?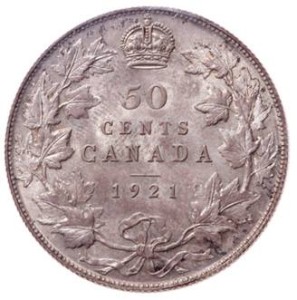 and here is King George V (although from a 50 cents with a different date )